Kapiti Sporting Facilities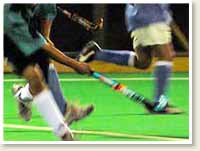 Kapiti is well received within various sporting arenas representing many sports in Wellington and Horowhenua competitions.There is a large range of sporting facilities around Kapiti for both competitive and casual occasions, including fields for cricket and football, tennis and netball courts, swimming pools, golf courses and many more.
Golf
Paraparaumu Golf Course
One of New Zealands top golf courses and one of the worlds top links courses. Its rolling fairways, deep rough and fast greens make this course very challenging. A true test of patience and accuracy for those serious golfers can lead to a very satisfying round of golf. For the casual player it can be alot of fun within a relaxing, picturesque setting and playing on a true championship golf course. The golf course welcomes visitors and new members.
PH: (04) 902 8200
Location: 376 Kapiti Road, Paraparaumu.
Web: www.paraparaumubeachgolfclub.co.nz
Kapiti Golf Course
A 9-hole golf course located towards the hills in Paraparaumu, giving it a charming, rural feeling. On first look the golf course looks like it has flat fairways. However, there are some hidden surprises. With a river running through parts of the golf course and lots of trees, it offers some challenging obstacles. This is a great 9-hole golf course for those who are looking for a relaxed, casual game and offers great rates for visitors. With a newly built club house and extended holes this golf course has modern facilities on a challenging course.
PH: (04) 298 6151
Location: Valley Road, Paraparaumu.
Tennis Courts
Te Atiawa Park - Percival Road, Paraparaumu Beach
Raumati South - Tennis Court Rd, Raumati South

Squash
Kapiti Squash Club
The club caters for both leisure, social and competitive players and in this respect the has a long and very successful competitive history in terms of both club teams and individual members. It is located on Anthony Grove in Paraparaumu.

Lawn Bowls
Kapiti Bowling Club
A good size bowling club with artificial lawns. It is located minutes from the beach, next to the Marine Gardens and within the Raumati Beach Village area. It welcomes new members and visitors, for more information please visit here.
Raumati South Bowling Club
Located on Glenn Road in Raumati South, this is a good size bowling club with artificial lawns. Visitors and new members are welcome.
Paraparaumu Bowling Club
Located on Toru Road in Paraparaumu this large bowling club has three natural lawns. Visitors and new members are welcome.
Archery
Kapiti Coast Archery Club
Archery is fast becoming a popular sport, progressively more in the realm of bow hunting. Whether you are an expert or a learner, the Kapiti Coast Archery Club is welcoming and a great place and atmosphere to learn or give it a try. The club grounds are at Reikorangi Road in Waikanae and the club shoots every Sunday morning. New members are welcome, but they encourage that you contact via email.
Email: iandiston@paradise.net.nz
Location: Reikorangi Road (first right after the 100kph sign), Waikanae
Website: Kapiti Coast Archery
Playing Fields / Playgrounds
Tennis Court Road Park - Raumati South
A small park in Raumati South, which has tennis courts, a memorial hall, play ground, basketball and netball courts and enough room to play a small game of backyard cricket or soccer. It has recently had beautiful chairs added and native planting. The park is located on Tennis Court Road in Raumati South.
Weka Park - Raumati Beach Village
A good size park, which offers football and cricket facilities. It is located just down the road from the Raumati Beach Shopping Village on Weka Road and also has a playground and picnic areas. Weka Park is also the home of the Kapiti Coast United Football Club.
For more information please visit here.

Matthews Park - Raumati
Located behind Kapiti College this park offers sporting grounds for rugby and rugby league. It's the home of the Kapiti Bears Rugby League Club and has facilities for casual games. The park can be accessed from Menin Road, off Rosetta Road.
Marine Gardens - Raumati Beach Village
Located within the Raumati Beach Village this park offers playgrounds, swimming pools and areas where you can play backyard cricket or have a picnic and watch the sunset over Kapiti Island. For more information please visit here.


Paraparaumu Domain
The Paraparaumu domain can be located from Aorangi Road of SH1. The domain is used for a mixture of sports from Rugby, Cricket, Soccer and Athletics. It is also used for Petanque and often holds athletic days for the schools and colleges. There is a playground there and also picnic areas.
Te Atiawa Park - Paraparaumu
Te Atiawa is a large, mixed use park located in Paraparaumu. It is used for Junior Rugby, Cricket, Softball, Tennis, BMX and Netball. The park is located on Donovan Road.
Mazengarb Reserve - Paraparaumu
Mazengarb Reserve offers several sports fields and complex for football, hockey, gymnastics, touch rugby and croquet. Currently under construction is an all-weather water turf, which will be the home of Kapiti Coast Hockey and various other sports. For more information on the turf development please visit the Kapiti Hockey Website
Kenakena Park - Paraparaumu
A small park located in on Whyte Street. It is primarily used as a cricket ground.
Swimming Pools
Raumati Beach Swimming Pools
The Raumati Swimming pools is located on the beach front at Raumati Beach adjacent to the Raumati Beach Shopping Village and Marine Gardens. It is the only indoor swimming pool in Kapiti and is ideal for both the serious swimmer or for those who just want to have a paddle around. Offering fun holiday activities and also affordable rates the Raumati Pools is a great attraction.
For more information please visit here.
Waikanae Outdoor Swimming Pool
An outdoor heated pool, which is open over the summer months from Labour Weekend, in late October until the end of March. Facilities include a large pool with hydra-slide, two smaller pools for young children and toddlers, and a large grassed area for BBQ's and picnics.

Transportation
Check out ways of getting around Raumati Village and the Kapiti Coast.
Bus routes:
Hotels / Motels
Baches
Bed and Breakfast
Raumati Village News:
Biking Mad!!

New biking shop has opened down at the Raumati Village Shopping Centre - Biking Mad. This is an exciting new shop there to look after the hugely growing biking trend. Come down and check out there range of biking accessories and bikes, they are located next door to the Village Baker.

New Shop Polly's

A new clothing store has opened at the Shopping Village called Polly's. Come down and check out the range of clothing on offer.

Why the Village has the best Coffee

The new Italian Wild Olive Cafe has everyone buzzing at the moment. With fantastic Food, great service and of course the best coffee there's no reason not to drop by and try it for yourself. Opened for both lunch and dinner.