Raumati Veterinary Clinic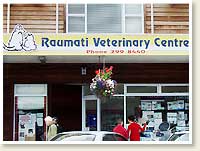 Raumati Veterinary Clinic
Ph: (04) 299 8440
The Raumati Veterinary Clinic offers Kapiti Coasters a great service for their pets, and also stock a large range of pet supplies.
Veterinary services is their primary vocation. However, they also provide many complementary goods, such as flea control, shampoo products, healthy biscuit options, dog dental products, leads, collars, toys and much more.
The veterinarians and vet nurses have a wealth of knowledge and experience. They are all pet owners and have the ability to identify your pets needs.

The Raumati Veterinary Clinic is a busy, community clinic, often looking after several generations of pets.
They care for pets and pet owners in a kind and compassionate manner, so if you have any concerns regarding your pet contact Raumati Veterinary Clinic for advice.
If you are looking for high quality pet products check out their large supply of goods from leading brands.
Contact Raumati Vets
Ph: (04) 2998440

Raumati Vet News:


As a community veterinary centre we are always busy and can never be sure of what will come through the door next. We have seen a number of serious motor vehicle accidents over the past few weeks resulting in broken bones and other serious injuries that require all the skill and care that our fully trained and experienced vets and veterinary nurses possess. These accidents usually happen at nighttime when pets should be safely shut inside their homes. ...more
Photographs:

Click Here
Raumati Village News:


Biking Mad!!

New biking shop has opened down at the Raumati Village Shopping Centre - Biking Mad. This is an exciting new shop there to look after the hugely growing biking trend. Come down and check out there range of biking accessories and bikes, they are located next door to the Village Baker.

New Shop Polly's

A new clothing store has opened at the Shopping Village called Polly's. Come down and check out the range of clothing on offer.

Why the Village has the best Coffee

The new Italian Wild Olive Cafe has everyone buzzing at the moment. With fantastic Food, great service and of course the best coffee there's no reason not to drop by and try it for yourself. Opened for both lunch and dinner.