Your Community Vet
By Andrea - Raumati Veterinary Clinic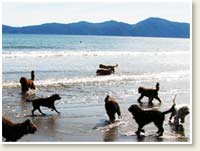 As a community veterinary centre we are always busy and can never be sure on what will come through the door next. We have seen a number of serious motor vehicle accidents over the past few weeks resulting in broken bones and other serious injuries that require all the skills and care that our fully trained and experienced vets and veterinary nurses possess. These accidents usually happen at night time when pets should be safely shut inside their homes.

It is not just dogs and cats we treat. As a clinic we take a great interest in the local wildlife including those on Kapiti and Mana Islands and Nga Manu Nature Reserve in Waikanae. Just recently I went by helicopter to Mana and Maud Islands to assist with young takahē being transferred down to their natural environment in Fiordland. Two weeks later I flew down to see them being cared for by their adoptive parents and feeding in natural tussock. Later they will be released into the wilds of the Murchison Mountains.

Recently we have also treated a sick kiwi, acted as midwife to a tuatara, splinted a baby kaka's foot and removed a fishing hook from a swan! After successfully removing the hook the swan then suffered a cardiac arrest and needed resuscitation but luckily survived and has now been released back to the wild. Fishing hooks are very dangerous when left lying around with bait still attached. We see a number of cats and dogs with hooks caught in their mouths every year, so please be careful.

We also regularly have some waif or stray brought into us. It is rewarding to be able to bring them back to health and then see them go to a new loving home. Four weeks ago someone brought us a scraggy little kitten found on the motorway at Johnsonville. She has now grown into a sleek, healthy purring machine and we need a very special home for her. Please contact us if you can help.

We are very lucky as a clinic in that we live in a wonderful community with great pet owners that care and love their animals.