Voon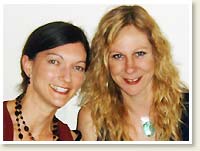 Sophie and Trina - Voon
Ph: (04) 902 5798
Hi. I'm Trina. I've been involved with Voon for eight years now. As a little girl I grew up with a sewing machine on the table. Mum made wedding frocks, so growing up there was no looking for ball gowns in our family. If you wanted a ball gown you made it! Before every 'ball season' there would be fights between my sisters and I to use the sewing machine!
I first met Sophie when I walked into this tiny shop in the Willis Street Village. It had just one row of clothing. I commented to the girl there at the time that I loved the clothes and designs.

I didn't realize that 'the girl' was Sophie and as well as selling these beautiful clothes she also made them all herself. We became friends and when Sophie needed to go overseas she asked me to look after her shop.

To cut a long story short, sales increased during my time at the shop and Sophie insisted I work for her permanently. Sophie would sew the garments and when she had finished a piece would bring it out the front for me to sell. We were a team and it was always exciting when someone would buy an item.

I love what I do. I love fashion and I love clothes. The most rewarding part of the job is a happy customer who has left the store knowing they look good in their purchase. We get a wide range of customers. I've dressed customers aged 25 to 75 years old. The clothes have a very classic feel and are designed to be flattering and timeless.

I have a lot of fun with our customers and many of them come to the store to socialize. I'm very honest and would never sell a piece that did not look great on the customer. I feel truly satisfied when customers tell me that someone has commented on their 'neat outfit' and asked 'where did you get that from?'

I've always wanted to live on the Kapiti Coast. Sometimes when driving through Raumati South it reminds me of Christmas Island, which is where I grew up. I moved to the Kapiti Coast to raise my children and when I decided to return to work I no longer wanted to be in Wellington so I told Sophie that if she wanted me back she would have to open a store for me out here!

When I'm in Raumati Village I feel excited. There are some funky shops here! This is a very vibrant area with character and soul, a place where you can really enjoy shopping.
Sophie Voon
Click here for more information
Voon News:


A quick introduction: My name is Douglas Voon and I'm married to a beautiful and mysterious fashion designer called Sophie Voon. My time is usually split between running various aspects of our business and .....more
The latest 2008 winter collection from Sophie Voon has more than a hint of oriental influence. Aptly named Boating On The Yangtze this range was inspired by the timeless elegance of old China, slow moving sampans set against misty mountains....more
Sophie Voon has come to the rescue of the style conscious bride by extending her label to include the delectable Sophie Voon wedding dress range. This range appeals in particular to brides who desire a contemporary look, rather than the traditional shuttlecock....more
Photos of Voon:


Click Here
Raumati Village News:


Biking Mad!!

New biking shop has opened down at the Raumati Village Shopping Centre - Biking Mad. This is an exciting new shop there to look after the hugely growing biking trend. Come down and check out there range of biking accessories and bikes, they are located next door to the Village Baker.

New Shop Polly's

A new clothing store has opened at the Shopping Village called Polly's. Come down and check out the range of clothing on offer.

Why the Village has the best Coffee

The new Italian Wild Olive Cafe has everyone buzzing at the moment. With fantastic Food, great service and of course the best coffee there's no reason not to drop by and try it for yourself. Opened for both lunch and dinner.