Raumati Village Meats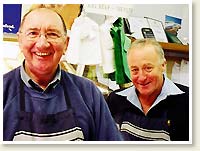 Bill and John - Raumati Village Meats Ph: (04) 902 5631

Hi. I'm Bill, this is John and out the back is Jim. We are your local Butchers. Whatever Marwyn from next door has said about us is completely untrue! We would never pull any pranks - Isn't that right John? "Yep"!
I started out here 40 years ago. Of course back then John was my apprentice. We had five butchers working with us and it was not uncommon to see lines forming out onto the street. Today, not a lot has changed. The shop is larger, we don't employ as many butchers and the lines are still there.

The key to the success of my business is that I've always been small but busy. This has enabled me to maintain that personal one on one service customers of Village Meats are used too. We can suggest the best meats for dinner or that special occasion. If you like, we can talk about fishing, hunting, gardening, anything! It's all about giving the customer what they want. At Village Meats we offer only the best quality meat at good prices. We love what we do and because of our vast experience you can be assured the meat you are buying will be the best on the Coast.

In this business we have to know more than just how to cut the meat. We need to know the whole process, starting from the farm to the final meat you see in the shop. We know how to age the meat for maximum flavour and tenderness, and of course we know recipes and how to serve meat. When you come here you will get more than just meat, you will get an experience. Our sausages are made right here on the premises. How do I know this? I make them!

So if you want the highest quality meat, a chat, and the nicest people on the Coast come in and see us at the Raumati Village Shops. We are open six days a week - fishing Sunday.

Tight lines...

Contact Village Meats
Ph: (04) 902 5631
Village Meats News:


by Bill
Firstly, do you use gas or charcoal? The main difference between gas and charcoal is in the flavour. Charcoal gives you a distinctive smoky taste, while foods cooked on a gas grill will basically retain their natural flavour. Ultimately, it's a question of preference.....more
Photos of Village Meats:


Click Here
Raumati Village News:


Biking Mad!!

New biking shop has opened down at the Raumati Village Shopping Centre - Biking Mad. This is an exciting new shop there to look after the hugely growing biking trend. Come down and check out there range of biking accessories and bikes, they are located next door to the Village Baker.

New Shop Polly's

A new clothing store has opened at the Shopping Village called Polly's. Come down and check out the range of clothing on offer.

Why the Village has the best Coffee

The new Italian Wild Olive Cafe has everyone buzzing at the moment. With fantastic Food, great service and of course the best coffee there's no reason not to drop by and try it for yourself. Opened for both lunch and dinner.