Impact Hair Design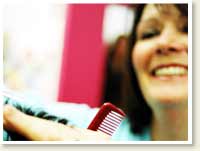 Sally - Impact Hair Design
Ph: (04) 902 5980

Hello. I'm Sally, owner of Impact Hair Design. After working in one of Wellington's top hair salons for many years I decided it was time to go out on my own, but I didn't want to stay in the city.

I had been to Raumati several times and liked the atmosphere of Raumati Village, so I was very pleased when a salon became available here. I have been at Impact Hair Design for nearly seven years and provide a professional and friendly service covering all aspects of hairdressing, from cutting and blow drying, to colours and permanent waves as well as specializing in long hair. L'Oreal, our main supplier, keep us up to date with regular product demonstrations and seminars. Twice a year they come to the salon to give us personal training on their Spring and Summer, Autumn and Winter Colour Collections which keeps us at the cutting edge of the latest trends in hair colour and style.

We have clients from as far away as Fielding, Wellington and Lower Hutt. We are open Monday to Saturday and you can find us at 12 Margaret Road or call us on (04) 902 5980.
Contact Impact Hair Design
Ph: (04) 902 5980
Email: Click Here
Impact News:


by Sally
For the first time L'Oreal have introduced a complete range of professional products and services which include shampoos and styling products for all hair types exclusively for men.t....more
by Sally
Hello, I'm Sally at Impact Hair Design. Now is the time to think about freshening up your wardrobe and having a fresh new look for your hair. The hair trends are returning to the natural look, no 'over the top' straightening or curliness. Elegant softness and feminine tousled is the look, also soft waves and bobs....more
Photos of Impact Hair:

Click Here
Raumati Village News:


Biking Mad!!

New biking shop has opened down at the Raumati Village Shopping Centre - Biking Mad. This is an exciting new shop there to look after the hugely growing biking trend. Come down and check out there range of biking accessories and bikes, they are located next door to the Village Baker.

New Shop Polly's

A new clothing store has opened at the Shopping Village called Polly's. Come down and check out the range of clothing on offer.

Why the Village has the best Coffee

The new Italian Wild Olive Cafe has everyone buzzing at the moment. With fantastic Food, great service and of course the best coffee there's no reason not to drop by and try it for yourself. Opened for both lunch and dinner.