Raumati Beach Shopping Village Leasing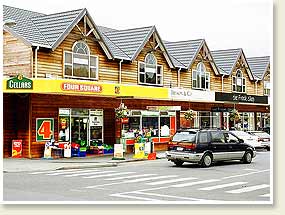 The Raumati Beach Shopping Village has an intimate, personal feel. Geographically the Village sits in the hub of the Kapiti community.

Our primary audience is women aged 35 plus. Success in reaching this audience is best shown by a recent retail study commissioned by our local council. In this study Raumati Beach Shopping Village was voted the best local shopping centre by respondents.

The existing and future retail mix is very much focused on high quality boutique women's fashion retailers, specialty foods, eateries, convenience, as well as books, gifts and homeware. In addition, the Village will contain a large serviced apartment and conference complex, as well as a boutique theatre and cinema lounge, we believe the first of its kind in NZ.

The Village has a real central community feel. Within close proximity is Kapiti College located on Margaret Road, Raumati School and preschool on Raumati Road, the beautiful Marine Gardens across Rosetta Road, plus Raumati Beach and the Raumati Swimming Pools are within two minutes walk.

The Kapiti Coast is one of the fastest growing regions in New Zealand and Raumati Beach is one of the highest income areas on the Kapiti Coast with the highest concentration of people with incomes over $100,000pa. The vehicular traffic count, currently 8,400/day, is expected to grow to around 10 - 11,000/day by 2016. Kapiti's current population of around 47,000 is projected to increase to 55,000 by 2016 and 60,000 by 2031. Perhaps the most important (yet unknown) fact is that Kapiti has 2.28 million visitors per annum and this is projected to grow to 2.4 million by 2013.

Kapiti is a destination for many people in the region and Raumati Beach is positioning itself to become the destination of choice within Kapiti. In 2006 international and domestic travelers spent $184 million in this region and this is projected to grow to $225 million by 2013. Our history points to being on track to achieve this and with the development of the Shopping Centre we are well positioned to benefit from this growth.

Our customers tend to be brand loyal and quality focused. They are educated and worldly; conscious of what they are buying and where it comes from. They also tend be 'experience focused' and the experience they seek is of a 'people orientated', intimate setting where they can feel that they are valued and served by people who are passionate about the product or service they provide.

You can appreciate this by reading our quarterly newspaper, which goes out to 10,000 households, as well as listening to our radio advertising. Both can be found on this website. For more information please contact us.


Links:
Transportation
Check out ways of getting around Raumati Village and the Kapiti Coast.
Bus routes:
Raumati Village News:


Biking Mad!!

New biking shop has opened down at the Raumati Village Shopping Centre - Biking Mad. This is an exciting new shop there to look after the hugely growing biking trend. Come down and check out there range of biking accessories and bikes, they are located next door to the Village Baker.

New Shop Polly's

A new clothing store has opened at the Shopping Village called Polly's. Come down and check out the range of clothing on offer.

Why the Village has the best Coffee

The new Italian Wild Olive Cafe has everyone buzzing at the moment. With fantastic Food, great service and of course the best coffee there's no reason not to drop by and try it for yourself. Opened for both lunch and dinner.




Hotels / Motels
Baches
Bed and Breakfast