Parks and Playground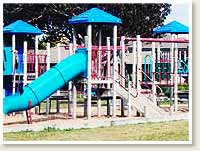 Kapiti has a number of different parks and playgrounds used for various sports and activities. Many of the parks also have great picnic areas with playgrounds for the kids and areas to play causal games like backyard cricket.
Parks and Playgrounds
Tennis Court Road Park- Raumati South
A small park in Raumati South which has tennis courts, a memorial hall, play ground, basketball and netball courts and enough room to play a small game of backyard cricket or soccer. It has recently had beautiful chairs added and native planting. The park is located down Tennis Court Road in Raumati South.
Weka Park - Raumati Beach Village
A good size park which offers soccer and cricket facilities. It is located just down the road from the Raumati Beach Shopping Village on Weka Road and also has a playground and picnic areas. Weka Park is also the home of the Kapiti Coast United Football Club. For more information please visit here.

Matthews Park - Raumati
Located behind Kapiti College this park offers sporting grounds for Rugby and Rugby League. It's the home the Kapiti Bears Rugby League Club and has facilities for causal games. The park can be accessed off Menin Road which is off Rosetta Road.
Marine Gardens - Raumati Beach Village
Located within the Raumati Beach Village this Park offers alot, from playgrounds to swimming pools and areas where you can play backyard cricket or have a picnic and watch the sunset over Kapiti Island. For more information please visit here.

Paraparaumu Domain
The Paraparaumu domain can be located from Aorangi Road of SH1. The domain is used for a mixture of sports from Rugby, Cricket, Soccer and Athletics. It is also used for Petanque and often holds athletic days for the schools and colleges. There is a playground there and also picnic areas.
Te Atiawa Park - Paraparaumu
Te Atiawa is a large park located in Paraparaumu and is a mixed used park. It is used for Junior Rugby, Cricket, Softball, Tennis, BMX and Netball. The park is located on Donovan Road in Paraparaumu
Mazengarb Reserve - Paraparaumu
Mazengarb Reserve offers several sports fields and complexes for Soccer, hockey, gymnastics, touch football and croquet. The reserve is also home of the new all weather artificial, water, sports turf. Finished in early 2009 this turf is the same used for the Beijing Olympics Hockey and offers full flood lighting. Well used most weekends by the Kapiti Coast Hockey Club and various other sports it is available for hire. For more information on the turf please visit the Kapiti Hockey Website
Kenakena Park - Paraparaumu
A small park located in Paraparaumu on Whyte Street. It is primary used as a cricket ground.
Transportation
Check out ways of getting around Raumati Village and the Kapiti Coast.
Bus routes:
Hotels / Motels
Baches
Bed and Breakfast
Raumati Village News:
Biking Mad!!

New biking shop has opened down at the Raumati Village Shopping Centre - Biking Mad. This is an exciting new shop there to look after the hugely growing biking trend. Come down and check out there range of biking accessories and bikes, they are located next door to the Village Baker.

New Shop Polly's

A new clothing store has opened at the Shopping Village called Polly's. Come down and check out the range of clothing on offer.

Why the Village has the best Coffee

The new Italian Wild Olive Cafe has everyone buzzing at the moment. With fantastic Food, great service and of course the best coffee there's no reason not to drop by and try it for yourself. Opened for both lunch and dinner.